Delivering Excellence in Custom Plastic Injection Molding & Contract Manufacturing Since 1974
Over two generations, MANAR has taken pride in assuring our customers the delivery of high-precision and high-quality parts on time at a competitive price. Our company was built on a foundation of innovation, respect, dedication, and corporate social responsibility.
For over 40 years, we have pioneered not just quality products, but more importantly, lasting relationships. Our stability of ownership and leadership, a strong commitment to quality, use of technically advanced and standardized manufacturing platforms, plus an experienced and engaged workforce are just a few of the key attributes that make us a market leader.
Over the years, our company has experienced continued growth and global expansion. We are recognized as a high-quality custom plastic injection molder and contract manufacturer – serving customers in many dynamic industries. With our team, you will find the knowledge, experience, modern production facilities, and reputation required to support your tool design and manufacture premier products at competitive prices.
MANAR INC GROWTH AND EXPANSION SINCE 1974
In 1974, Gene Nolen and three other partners established the first plant CEW Enterprises located in North Vernon, IN. 
In 1979, GTR Enterprises was established in Edinburgh, IN. With Gene's can-do, never-give-up attitude, GTR Enterprises experienced tremendous growth with many customers including Toshiba. The GTR company name was coined in honor of his son Greg, his daughter Tammy, and his wife Rose – hence the name GTR Enterprises, LLC. 
Along with his passion for learning, innate understanding of plastic injection molding tooling design, superior processing skills, and innovative spirit, Gene Nolen helped develop the first non-painted passenger service unit panels for the Boeing 777.
By 1991, GTR Enterprises and CEW Enterprises merged to form MANAR. Over the next several years MANAR would acquire Tennplasco located in Lafayette, TN; Key Manufacturing located in Madison, IN; ECA Enterprises located in Edinburgh, IN; and a global partner when MANAR-Reliance Joint Venture was established located in Shenzhen, China.
On March 31, 2016, Gene Nolen became the sole owner of MANAR. Less than a year later, MANAR became an Employee Stock Ownership Plan (ESOP) company and today is 100% Employee-Owned.  MANAR Chief Executive Officer (CEO) Gene Nolen was a passionate leader who was sincerely grateful for his employees and wanted to reward them for their hard work and loyalty.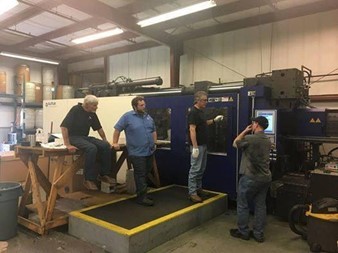 The MANAR Processor Team troubleshooting issues with a plastic injection tool with then CEO Gene Nolen (far left sitting).
Gene was a hands-on leader and enjoyed trouble-shooting plastic injection molding problems with the team on the factory floor.   
The History of Growth & Expansion of MANAR
<! ========= Cool Timeline Free 2.7 =========>
Timeline
ECA Enterprises Converted To MANAR MEDICAL®
New paint line installed at Tennplasco
Tennplasco was established